STRIVE Preparatory Schools recently wrapped up two of our "Mini-CAP" 6-week Community Adventure Programs.  The Westwood campus and the Lake campus both had a great time during their 6-weeks together, which concluded with a final overnight camping trip together.  During the accelerated version of our Community Adventure Program, the students played games, learned more about each other, gained knowledge about local environmental issues, and created two Action Projects to address them as a group.
Westwood campus decided to work on the environmental impact of graffiti.  They were confronted with graffiti in their neighborhoods every day, wanted to learn more, and wanted to do something about it.  The group spoke to Denver Parks and Recreation and clean-up professionals to learn more about the process of how graffiti is eliminated. They then choose to do a little cleaning up themselves and spent an afternoon covering graffiti in their neighborhood.
Lake campus elected to learn more about local food and revitalize a garden at school.  The group dove into the idea of growing food yourself and after securing supplies, tidied up an existing garden at school and got it ready for the spring growing season.
Students had been looking forward to the overnight camping trip for six weeks, which most students shared was their favorite part of the course. Both campuses were able to join together to create a fun filled weekend and make some new friends!  The weather was a little chilly but they had a great time anyway, exploring Cal-Wood and learning the basics of low impact camping.   One often mentioned highlight was a hike to the Mica Mine at Cal-wood.  On the way there the group spotted a bunch of old bones and had fun reconstructing creatures, both real and imaginary.  The mine itself  is an old dig into the hillside where mica was extracted.  The area and the hole in the hill glitter with the left-over mica and at night it is quite an experience…especially with a night hike for the return trip!
Thanks to STRIVE Preparatory Schools, their enthusiastic teachers, our amazing Cottonwood Institute instructors, and Cal-Wood for hosting us. Our programs with Strive would not be possible without our donors and supporters, including Avnet Technology Solutions, New Belgium Brewing Company, and The Kenneth King Foundation.
Citizens of the United States represent about 5% of the world's population but produce 30% of the world's garbage. The Earth Task Force (ETF) was shocked by this amount of waste production. For years the ETF has searched for ways to reduce waste production at New Vista High School (NVHS) and save precious natural resources. Past projects have included recycling campaigns, reuse campaigns and a student-run composting program.  Now they have been rewarded for all that hard work! At the beginning of April 2013 ETF partnered with Eco-Cycle to help NVHS become the first Green Star High School.
Eco-cycle's Green Star Schools program works with schools with the goal of zero waste. The end goal is that none of the school's waste is thrown into the landfill. Green Star Schools is a comprehensive program that involves educating the staff and student body about what goes where and it includes an industrial composting system!
For the last 4 years the ETF had been using an on site compost where compost was taken by the ETF's members to an area at the back of the school. Unfortunately, it meant that not all products, like meat and dairy, could be composted and compostable flatware and silverware still had to be thrown away. Because of ETF's hard work running the backyard composting program, they were thrilled to become a Green Star school and gain the ability to expand the compost program with an industrial level system.  The industrial composting from Eco-Cycle now allows many different kinds of items to be composted at New Vista further reducing the waste we produce.
The Earth Task Force and Ecocycle hosted a Green Star School launch on April 3rd, which included a student written skit performed by students and staff to educate the NVHS community about the importance of conserving our precious natural resources. Eco-cycle introduced the new recycling and composting systems. At the end of the presentation representatives from each classroom came to pick up trash, recycle, and compost bins for each room in the school. The launch was fun for the entire school and a great way to start off the Green Star School program. Students are happy about the new waste disposal system and the amount of foodstuffs being composted rather than thrown away. The office staff has decided to host zero waste events with financial support from the Earth Task Force.
Written by student journalist Allison Bell.
The Earth Task Force is a Cottonwood Institute-supported program at New Vista High School in Boulder, CO designed to give students an opportunity to take the lead to implement sustainability initiatives at their school.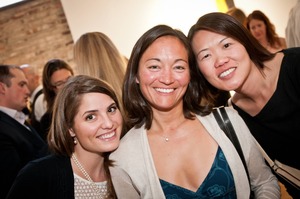 It is incredible what is possible when the community pulls together to support a good cause.
Approximately 250 people and local businesses rallied together to donate money, silent auction items, food, and spirits to help make the 2013 Base Camp Bash our most successful event ever!
So how much money did we raise? We raised over $51,500 to help support our programs this year. The money we raised from the Bash will help support our programs with:
To check out pictures from the event and re-live the magic, Click Here!
If you missed the best Base Camp Bash ever, you will have to wait until next year. But you can still help support our programs by making a tax-deductible donation to support our programs to connect underserved students to the outdoors and empower them to tackle local environmental issues by Clicking Here.
Finally, we can't speak more highly of all of the amazing local businesses that contributed to the success of Base Camp Bash. Please support the folks who support local nonprofits in the community! For a full list of our sponsors and supporters, Click Here.
Cottonwood Institute is starting another season of our 6-week Community Adventure Program with Casa de la Esperanza in Longmont, CO.  It's been a rough start with school canceled due to snow and cold blustery days keeping many activities indoors.  Despite the weather, we have a dedicated group of students getting to know each other and starting to learn about environmental issues.
The first class was a great introduction both to the new students and to the world around them and the idea of environmental issues.  Now after a second session, the students are getting acquainted with the importance of local environmental issues,
from plastic bottle waste, to climate change, finding local food and recycling.  They spent the class learning about local issues and have the task of bringing back information on one they are interested in next week when they will pick their issue and start in-depth research on their topic.
After completing their project in mid-May, the group will go on an overnight camping trip to explore the outdoors further and celebrate what they have accomplished!  This weekend at Cal-Wood Education Center will be their culminating experience with Cottonwood Institute.  We hope the weather is a little warmer for them by then!
A special thanks goes out to our supporters, including: Community Foundation Serving Boulder County and The North Face Explore Fund!
On February 22nd, a group of four Earth Task Force members attended the Alliance for Sustainability Conference at the Colorado State Capitol Building. At the conference the Earth Task Force learned about current bills that focus on sustainability, climate change and the environment. Adam Stenftenagel, the co-founder and CEO of Snugg Home presented at the conference. He informed the audience about simple, cost-effective ways to improve the energy efficiency of residential homes.
After the initial briefing, students were introduced to Andy Kerr, a Colorado state senator working on green school bills. Kerr informed the ETF about a bill he recently wrote and sponsored. House bill 09-1312 allows school districts to apply for a small loan from the Colorado state treasury at a low interest rate. This bill will allow the ETF to apply for a grant that wouldn't have been possible due to lack of funds from the school district. Speaking to Kerr in person was an unexpected, yet wonderful experience for the ETF it meant that a state senator was willing to take time out of his day to speak directly with high school students.
Andy Kerr invited Earth Task Force students to sit in on the House floor as bills were being discussed by the legislators. The students also spent their day speaking with house and state representatives. They discussed an upcoming plastic bag ban in Denver, and invited the politicians to a rally for the ban on April 13th, 2013. The unique experience provided the young activists with valuable information and tools with which to complete current and future projects. The experience also taught students that approaching, and working with local government officials is possible and a useful resource for the future.
Written by student journalists Robert Harding and Tavius Koktavy.
The Earth Task Force (ETF) is a Cottonwood Institute-supported program at New Vista High School in Boulder, CO designed to give students an opportunity to take the lead to implement sustainability initiatives at their school.
It's go time everyone! We've been training for this day all year and now it is less that two weeks away. Drum roll please…
The 2013 Base Camp Bash is almost upon us on Saturday, April 20th, 2013 from 7-10pm at Artwork Network in Denver, CO.
What is the Base Camp Bash you ask? Only the most fun and exciting event the Cottonwood Institute hosts once a year to raise money to support our programs to connect students to the outdoors and empower them to tackle local environmental issues.
Why is this one of the coolest nonprofit events ever to happen you wonder? Here are a two reasons you should drop everything and buy your tickets at the door!
The Best Food And Beverages Denver Has To Offer: We will be featuring "S'mores Pancakes" from Snooze, Cottonwood Organic White beer from Wynkoop Brewing Company, and great wine. For just a few more bucks you can come to the VIP party from 5:30pm – 7pm before the main event and enjoy a local cocktail tasting with mixologists from Ace Eat Serve and Steuben's featuring spirits from Leopold Bros. and appetizers from The Kitchen restaurant.
A Fabulous Silent Auction: We have adventurous auction items, including: A luxurious 4-night stay to one of 20 exotic locations courtesy of Portico, outdoor gear from Mountainsmith, restaurant gift certificates to the best restaurants in Denver like Root Down, and much more! To check out what we have so far and to start bidding, Click Here.
What are you waiting for? Buy your tickets at the door!
What's that? You have another commitment that night you just can't wiggle out of? Well it better be a good excuse…But seriously, you will be missed, AND there are still two ways you can help:
You can Pre-Bid on our amazing silent auction items until Friday, April 19th, 2013 at 5:00pm. Pre-bids will open up the bidding at the main event on April 20th, so if you can't come and you really want something, bid high! Remember, we all need to buy gifts for friends and family, so why not shop at our auction and support a great cause?
You can make a Tax-Deductible Donation to help support our programs for underserved students. School budgets are still being cut and the Cottonwood Institute is providing life-changing programs for underserved students in the Denver/Boulder area. All donations from the Base Camp Bash help support our high priority programs with Casa de la Esperanza, New Vista High School, Operation: Military Kids, Strive Preparatory Schools, and more.
SPONSORS:
We could not pull all this off without the incredible support of our sponsors and VIPs this year. They support great organizations like the Cottonwood Institute, so please support them!
$5,000+ Level Sponsors
$2,500 Level Sponsors:
Dr. and Mrs. John M. Church, Jr.
$1,000 Level Sponsors:
Anonymous, Dr. and Mrs. Stefan Mokrohisky, Dr. and Mrs. William Conway, Linda Bjork, Mr. and Mrs. Chris Zook
$500 Level Sponsors:
Mr. and Mrs. Stephen Waters
Johnson and Wales University (JWU) worked with the Cottonwood Institute for the third year in a row to offer another great Environmental Leadership Summit.  Eyes were opened, ideas were hatched and questions raised as the day got underway with excellent speakers and hands on activities.  By the end of the day, 21 students had participated in the summit and everyone had something to take-away and apply to their own lives and career paths.
The day started and ended at Fluid Coffee Bar.  Owner Jeff Aitkens presented their environmentally conscious model for running a business and introduced the group to the "triple bottom line" of sustainable business practices.  Ford Church shared the story of the Cottonwood Institute, the Action Project Steps, and the Cycle of Hope and Cynicism.  Adam Brock, Director of Operations at the Grow Haus in Denver spoke about urban farming, education, local food sources and the many native
alternatives to common cuisine here in Colorado.  After a rousing game of Ninja and some time for reflecting, the group headed to Pizza Fusion to partake of another locally owned and socially and environmentally conscious business. One of the highlights of the day was the Sustainability Scavenger hunt which sent participants through the Uptown neighborhood of Denver finding sustainable businesses, bike racks, and bus stops, picking up trash, and answering questions about local shopping opportunities.  Back at Fluid the group engaged with Jessie Fischer from Alliance for Climate Education (A.C.E.) and her fantastic presentation on climate change and it's causes and possible solutions.
The group ended the day thinking about steps they can take to make a difference in their communities and lives.  Each student shared a goal they could work on over their next semester at JWU to support a more locally fueled sustainable future for us all.  From environmental action clubs, to burgeoning business plans and simple actions to take on an individual level, everyone had something truly unique and beneficial to add to the work we are all doing in creating community-led sustainability initiatives.  After the summit, one student had this to say: "Innovative ways to be sustainable are constantly popping up, but we rarely notice them; being educated is only the first step and these community leaders have made it so easy that everyone can take part. It is truly an honor to take part and experience the rush of knowlege again."
Many thanks to all of our speakers and partners for a fantastic day!
Although we haven't been planting, or digging, or weeding during the winter season, we have been doing a lot of work to get ready for the 2013 growing season!
Here are a few quick updates from the New Vista High School Learning Garden Crew:
We raised $5,000 to support the Learning Garden. This money is allocated to our Garden Coordinator position and will support it for two years!
We hired an experienced educator and marvelous Garden Coordinator, Melanie Goldbort. Melanie is skilled in gardening and passionate about connecting people with their food. One of her goals in life is to create a new generation of farmers. She also co-founded Boulder Family Farms. To read her full bio Click Here.
Melanie is meeting with teachers to write standards-based garden lessons for high-schoolers! Thank you teachers for taking the time!
A garden club for students at NVHS will begin this April. The 1st meeting will be Thursday, April 25th, 2013. Stay tuned for more information. Or Email Melanie if you are already interested.
We have received word from Boulder Valley School District that they will support our garden with funding this year. We're going to buy seeds, tools, irrigation materials and more.
We will be partnering with Boulder Food Rescue to donate a large part of our harvest to communities in need and our Learning Garden will officially be named a "Garden Against Hunger."
We need volunteers of all ages to love, care for, and eat from our garden this summer. If you or someone you know is interested in helping out, please Email Melanie Goldbort.
The New Vista High School Learning Garden is a Cottonwood Institute-supported program at New Vista High School in Boulder, CO designed to give students an opportunity to take the lead to implement sustainability initiatives at their school. Learning Gardens are a product of The Kitchen Community in Boulder, CO.
Last week we wrapped up an exciting quarter of CAP 36. After inspiration from one of our guest speakers from Boulder Open Space and Mountain Parks, we devoted our energy in the second half of the quarter towards the urban wildlife conflicts in Boulder. We spent several weeks researching and understanding human-wildlife conflicts with mountain lions, coyotes, and black bears. We learned why it is becoming more challenging for the three animals to coexist with humans in Boulder. Through three entertaining presentations, we educated the New Vista High School community about the issues. During a school-wide presentation, Johannes dressed up like a black bear! Towards the end of our Action Project, we took our knowledge outside to the community. We spent our final CAP class at Chautauqua, at one of the most traveled trail heads in Boulder. In pairs, we approached individuals and small groups of people to educate them about urban wildlife conflicts that affect Chautauqua users. Folks were most interested to learn what to do if they encounter a
mountain lion on the trail. Many users were well aware of the issues surrounding bears in Boulder; however few people knew the depth of the coyote issues. If you're interested in learning more about urban wildlife, check out the information and suggested guidelines from Boulder Open Space and Mountain Parks.
We spent our second camping trip at Cheley Outpost in Allenspark, Colorado. We experienced the full spectrum of Colorado winter weather: warm 60 degree sun all the way to 20 degree snow! The weather allowed us to partake in all of our favorite camping activities, from basking on rocks in the sun, to tracking animals in the snow. Check out our pictures to get the full story of our overnight experiences!
Read a snippet of Harper's final reflection on CAP 36!
One of the skills I gained [in CAP] that I value the most is my experience working with others throughout this class. I feel as if I have come a long way from the beginning of this class in the fields of intrapersonal skills and working in groups due to the emphasis on group building and problem solving in this class.
– Harper
The Cottonwood Institute welcomes the newest member to our team, Melanie Goldbort! Melanie is taking on the role of Learning Garden Coordinator at New Vista High School. Melanie will work closely with students and staff to develop an integrated learning garden curriculum for the high school level. As the snow begins to melt, you'll find her at the New Vista High School garden planting, watering, weeding, and teaching others all about gardening.
Melanie has been in the field of education for over 10 years. She received her Bachelors in Applied
Psychology from New York University and her Masters in Teaching from Montclair State University. She is a licensed Special Education teacher and has taught in New York, New Jersey and Hawaii. In recent years, she has combined her passion for healthy food, outdoor education, and community-building to help start a farm with an educational focus. She co-founded Boulder Family Farms, a local food company dedicated to growing, providing access to, and educating about organically-grown produce and humanely raised animals. The 3 acre farm on Cherryvale Road, which is home to two friendly goats, has chickens raised for organic eggs, produces vegetables for a small Community Supported Agriculture Program (CSA) and an on-site Farm Stand. The farm also provides educational opportunities for people of all ages.
Welcome, Melanie!