The long lazy days of summer has just begun, but a group of 12 West Denver Prep Lake Campus students decided to give up a few of these lazy days for an adventure at Mission:Wolf (MW) this past June.  MW is located near the beautiful Sangre de Cristo mountain range just outside of Westcliffe, Colorado. It is a wolf sanctuary housing up to 40 wolves at one time, relying on staff, volunteers, and groups to help maintain the property, feed the wolves, and of course, give them special attention.
After packing up all the gear and food, we piled into the van, and with snacks and cold beverages at hand for our 4 hour drive, we were off.  It only took about 2 hours to hear the dreaded, "Are we there yet?" but thanks to the tunes, the giggles, and the wonders of air-conditioning, we made it up the steep hill and into MW, bright blue sky, blazing sun, and all.
We were all excited to meet the wolves, but there was even more excitement to help feed them when we started hearing whispers that we were going to help butcher a cow that had recently died. (Local ranchers donate their deceased horses and cows to help the costly expense of feeding the wolves.)  This excitement held strong the entire 4 days we were there, even while setting up tents, basecamp, and creating our outdoor kitchen. These kids were far from done for the day, so we set out on a short hike to Carcass Canyon to explore the variety of bones leftover from the many wolf feedings, played a game of camo in the waning daylight, and then hiked back to base camp for some good old
fashioned hot dogs.  Still not worn out, with the stars lighting our way, we headed out into the night for another hike, where we became familiar with our surroundings by using nature awareness skills and night senses.
Morning came a bit too early for all of us, but the howls of the wolves were our alarm clock and after a hearty breakfast of eggs and sausages, it was time to hike up the hill where we helped feed the wolves and setup the groundwork for a new horse fence.  After lunch we managed to motivate this young group of city slickers into creating some amazing debris shelters and even had them p
articipating in and understanding the importance of a sit-spot. One student even went so far as to say, 'That was the most relaxing thing ever."  Never doubt the importance of a sit spot.  But our day was far from over. The kids heard the rumors that the cow was about to be butchered, and we spent the next two hours being both thrilled and disgusted watching this intricate, bloody, yet necessary task.  This was both the highlight and lowlight (the smell was awful) of the trip for most of the kids.  Although it is quite rough to watch, it is an amazing opportunity to experience first hand the full cycle of life and food and while the kids may not fully comprehend that yet, they will never forget it.
Our last full day was spent helping out around MW, feeding the wolves, playing games, making journals, reading stories, and more importantly, finally meeting the wolves.  While wolf kisses were limited, smiles were not.  No matter how hot it is or how tired you may be, it is always an uplifting experience to walk into the wolf enclosures, sit down, and be face to face with an actual wolf. We ended our final day with another night hike longer than the first and with a great deal more excitement.  While it is uplifting to meet a wolf, it is even more uplifting hanging out with 12 year olds who do not camp and who turn down the outdoors to watch tv or play video games on a regular basis, but will go excitedly on a night hike without flashlights; laughing, singing, hot chocolate-filled city kids having the time of their life in the middle of no where, having only stars and their voices guiding the way.  Amazing!
Due to the heat of the day, late nights, and kids who are not used to the outdoors, motivation was lacking at times. But once these kids tried something new, many were genuinely interested and when given a chance and encouragement, they worked hard and listened attentively.  But wait, we had one last hurrah on the drive out of MW.  "Look!  Way off in the distance! Is it a dog, is it a fox? No, It's a BEAR!"  Lessons learned from this trip: put yourself in the right place at the right time and always try something new!
As always a great big thanks to Mission:Wolf for hosting us and giving the kids rides up that long, steep hill. They loved it!
Click here for a slideshow of the adventures!
In late May, a group of high school boys from Colorado Academy took over Mission: Wolf (MW).  Accompanied by their teacher, school principal and three Cottonwood Institute instructors, the boys enjoyed five technology free days learning about wolves and primitive skills, while working hard on several service learning projects. Located just outside of Westcliffe, Colorado, MW is home to rescued wolves and wolf-dogs. Staffed mainly by volunteers, visitors offer MW much needed help with day to day projects to keep the sanctuary running smoothly. If you want to be kissed by a wolf, you must do the work first.
Each morning began with a quote to lead into the daily activities. In the warm, windy weather the boys played team-building games, learned survival skills such as shelter building, how to make fire, animal tracking and nature awareness. They explored the diverse area on various hikes and worked hard to move granite, wood, and help with road-repairs to give back to MW. Most importantly, though, they found time for some "sick" hacky sackin' sessions and of course, time with the wolves!
In addition to feeding the wolves, the boys also got the opportunity to butcher an entire horse! Local ranchers
donate deceased horses to MW to help with the immense cost of feeding these amazing animals.  This process gives students a unique experience in a true hands-on food cycle process.  While it was quite bloody, it captivated the attention of the whole group, some becoming completely drawn into cutting up the horse while others preferred to simply watch. The process not only connected the group with the staff, but also the wolves, giving the boys an understanding of both the cycle of life and wolf pack dynamics.
While listening to the howl of the wolves, the students ended the course with a sit-spot to appreciate the beauty of the area and the unique experience of hearing and meeting such powerful creatures in the mountains of Colorado. One student summed up the experience quite nicely, "I have a deeper understanding of the world around me and I appreciate nature and all it has to offer."
A special thank you to Mission: Wolf for all they do for their volunteers, students, all of us here at Cottonwood Institute, and more importantly, nature, the wolves, and the surrounding animals.
Written by Kelly Muller and edited by April Pishna.
Imagine a place where kids roam with the wolves and sounds of giggles fit right in with the howls. Strange?  Maybe, but to Mission:Wolf staff and volunteers, this is just another day on the job. And for the 18 kids and 3 teachers from Logan School, it became part of the normal routine as we enjoyed 4 days at this extraordinary place last May. Mission: Wolf is a wolf sanctuary that houses around 40 wolves and wolf-dogs that people can no longer care for. Located just outside of Westcliffe, CO in a remote setting, it offers visitors a chance to not only connect with animals, but nature as well.
It is this connection that brings Cottonwood Institute courses and Mission:Wolf together to offer Logan School students a chance of a lifetime.  We spent 4 fun-filled, very active days, and 3 restful, yet chilly nights at Mission:
Wolf.  While there, students got to meet the wolves, feed the wolves, plant trees, and help with landscaping projects.  They learned about tracking and the stories behind animal tracks. They learned how to start fires using cottonballs and only one match.  Marshmallows were eaten around the campfire, while billions of stars gazed down upon us.  We worked hard, ate dinner late, woke up early and did it all again the next day.  Every day, while action-packed, also offered time to reflect on the wolves and all the activities and games we played as well as all the projects we accomplished.  One student stated, "This is so cool. We get to eat lunch when we would normally be getting home from school and we get to eat dinner when we would normally be going to bed."  Ah, the excitement of the little things when you are 10.
Yet, I haven't even mentioned the coolest things.  1) We were kissed by the wolves and best stated by one of the kids,  "I've kissed a dog, now I kissed a wolf."  The students, along with the teachers, and Cottonwood Institute instructors, did not stop smiling from the memory of this until sleep stole it from our lips.  I do believe the wolves were even smiling. 2) We helped butcher a horse.  Yes, you heard me right.  When nearby ranchers have a horse that dies, they donate the body to Mission:Wolf to help feed the wolves.  It just so happened that we were there at the right time to help with this unique chance to fully understand the circle of life.  I was so impressed with all the students and teachers when it came time to help with this gruesome task, but their level of understanding of the importance of this was way beyond what I would have expected from high schoolers, let alone 3rd and 4th graders. We were so lucky to have this opportunity. And one quote – quite funny – that I will never forget came from an elegant little girl, quite proper, but very hard working and focused, "I chipped my nail while butchering a horse." Not many people get to say that!
After wheelbarrow rides, an exhilarating blind drumstalk activity, getting stuck in the mud on the way in, sticky marshmallow fingers, hot dogs around the fire, grimy fingers, campfire stories, survival skills, wolf kisses, horse butchering, walking like animals, stomping on each others feet, throwing meat over fences, digging holes, listening to coyote yips, finding bones, and oh so much more fun, we were exhausted, yet content. And so on a very foggy and very chilly morning, we packed up our home for the past 4 days, blew one last kiss to the wolves, and bid farewell to our new friends.  Until next time, keep howling!
Click here for a slideshow of our adventures.
Just before school let out for the summer, 11 adventurous girls from Colorado Academy set out on a final mission: wolves.  On a warm spring day in May, although the van was stuffed full of fuzzy pillows, makeup bags, and iPods, it was the adventurous spirit of these girls that filled the air with confidence, strength, and true girl-power.
Turning out of the driveway and leaving the city life behind for a few days, we were all buzzing with a sense of curiosity, wondering what the future had in store for us. Upon our arrival at Mission: Wolf, while we were greeted gustily by the wind, we could still hear faint howls from the wolves off in the distance, reminding us that nature now surrounded us.
Mission: Wolf is a wolf sanctuary located in the southwest corner of Colorado, near Westcliffe.  It is home to more than 40 wolves, giving these often misunderstood animals a safe haven.  Our mission while visiting here was to connect with nature through survival skills, hang out with the wolves, get to know them, feed them, and in return, gain a better understanding of how wolves affect the environment and how we can improve the environment for everyone.
Amidst the wind, we attempted to set up camp without getting blown away. Little did we know that the wind would remain our constant companion throughout the course.  After a few broken tent poles and chasing tent bags, we managed to successfully set up camp and eagerly went off to meet our first wolf.  The anticipation was palpable and that initial excitement remained with us as we woke up in the mornings, met each wolf, helped to feed and care for them, and collapsed happily into bed each night.
While the wolves took up most of our time, we still managed to build debris shelters, make one-match and cotton ball fires, create our very own pop can backcountry stoves, meet and care for horses, embark on hikes, roast marshmallows, and hold inspiring discussions into the wee hours of the night.
With the distant howling of the wolves whispering in our ears and the Sangre de Cristos offering us glimpses of snow-capped mountain tops through the wispy clouds, we relaxed into our new surroundings, giddy as 7-year olds.  And when it was time to leave, although eager to return to society, there remained a hint of nostalgia for the memories created in our short time spent with these majestic creatures.  The students stated it best: "This course changed the way I look at wolves and had a large impact on me.  I felt more peaceful here."
Click here for a slideshow of our adventures and until next time…Hooooooowl!
What is a day in the life of our Endangered Wolves and Animal Tracking course like at Mission:Wolf? It is like nothing else you have experienced. It's a day of making meals with strangers that have become fast friends. It often starts with feeding the wolves and ends with telling stories around a fire. It will challenge you to work harder and feel more passionately about a cause than you ever thought you could. The Endangered Wolves and Animal Tracking course will leave you feeling empowered by new skills and experiences and ready for challenges you never before considered. And that is just the first few days.
Fearlessly lead by their Cottonwood Institute Instructors, Ryan Johns, Clark Patton, and joyful volunteer Torie Salley-Rains, a group of passionate and committed high school students decided to spend a week with us this summer to learn more about wolves and to give back to Mission:Wolf. Their days were full from morning until night. Students spent time feeding the wolves every morning. They helped with all the normal day-to-day activities jumping in right along side the other full-time volunteers as if they had been there all summer. Together the students decided to take on a special project to show their appreciation for what Mission:Wolf does by building the foundation for a 12 foot by 24 foot shed to house the tools Mission:Wolf needs to get through the hard Colorado winters. Throughout the week, they put in a combined 300 hours of service to give back to the wolves and improve their habitat. Impressive!
When students were not directly caring for and interacting with the wolves, students were challenging themselves to learn primitive skills long forgotten by modern society. Many students were successful with starting a fire with only friction and a passion for the skill. Students learned the art of self reliance in the back country while gaining an appreciation for the joy spent making meals together and sharing stories with new friends.
Students learned how to identify animal tracks and tune in their senses to see and hear more in the wild than ever before through didactic lessons, group games, and initiatives. During this trip we were lucky to have an instructor who taught us the art of making traps and snares. No animals were harmed, but some beautiful cardboard box deadfalls were created.
One of this year's students Angel Cruz said it best "Being able to connect with nature and learn how to interact in the wild with wolves and other animals has taught me that we have an animal inside of us, which make us part of nature. But our eyes are closed and the only way to see is by connecting our self spiritually and mentally."
This is a course that stays with you when you leave. The experiences and lessons learned form the wolves and the staff at Mission:Wolf are never forgotten. And no one leaves the Endangered Wolves and Animal Tracking course without a wolf kiss. What's a wolf kiss? That is something you have to find out for yourself…….
To check out the slide show from this course, Click Here.
A special thanks goes out to Ryan Johns for writing this article.
As the leaves start to change color and kids return to school, it is time to reflect on an amazing summer and all the happenings here at Cottonwood.
We kicked the summer off with a couple of weekend adult survival clinics, where our brave attendees not only built a survival shelter, but actually slept in them!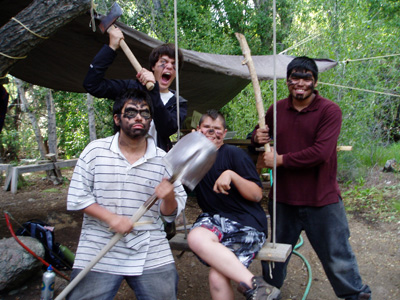 We continued our summer journey with two, 7-day courses geared towards the mighty teenager!  The first was all about the stone age, where students made their own tools, learned primitive fire skills, and built debris shelters. The second was all about the wolves. The students immersed themselves in the land of the wolves, learning about their habitat and culture, as well as nature awareness, animal tracking, and survival skills.
We ended the summer by giving back. Team Cottonwood joined Sunrise Century, a 100 mile bike race, for a day of volunteering as route marshalls in beautiful Boulder.  And to top that off, we moved mountains at Mt. Evans with our valiant volunteers and Colorado Fourteeners, while on a trail building mission.
Read more about these exciting events at stay on top of all the action at Cottonwood Institute by checking out the Notes-from-the-Field section of our blog.
There is just something about wolves that makes them unforgettable, especially when you get right up close and personal with these amazing animals. On July 18-24, 2009, the Cottonwood Institute took eight brave students out on their Endangered Wolves and Animal Tracking Project. Not only did they pet the wolves, but they came right up to give the students a big, wet kiss on the face!
The course took place at a wolf sanctuary called Mission: Wolf in the Wet Mountain Valley just south of Westcliff, Colorado. Lead by Cottonwood Institute Instructors Brittany Salley-Rains and Ryan Bovard-Johns, the students met the wolves, learned about their behavior and their importance in the ecosystem and fed the wolves. They helped out around the sanctuary by collecting firewood and lending a hand in the beginning stages of building a tepee for future volunteers to stay in.
In addition to their work with the wolves, the participants also learned important wilderness survival skills, including an awesome demonstration of hand and bow drill fire making by Mission Wolf Volunteer Andy Elmgren. They also went on fun hikes, participated in stalking games, nature awareness, and animal tracking activities.
"The course was sick," says James Hanifin (a.k.a. Night Hawk) a junior at New Vista High School in Boulder. James took the course because he wanted to chill with the wolves. When asked about his experience James said,  "The wolves were sweet, I gained a lot of respect for the wolves and learned a bunch of survival skills."
Zamantha Quezada of Englewood, Colorado found out about the course from her niece and thought it sounded interesting. "I liked the course, I liked getting to be with the wolves and petting and feeding them." Zamantha plans and returning to Mission: Wolf to volunteer so she can spend more time with the wolves.