Citizens of the United States represent about 5% of the world's population but produce 30% of the world's garbage. The Earth Task Force (ETF) was shocked by this amount of waste production. For years the ETF has searched for ways to reduce waste production at New Vista High School (NVHS) and save precious natural resources. Past projects have included recycling campaigns, reuse campaigns and a student-run composting program.  Now they have been rewarded for all that hard work! At the beginning of April 2013 ETF partnered with Eco-Cycle to help NVHS become the first Green Star High School.
Eco-cycle's Green Star Schools program works with schools with the goal of zero waste. The end goal is that none of the school's waste is thrown into the landfill. Green Star Schools is a comprehensive program that involves educating the staff and student body about what goes where and it includes an industrial composting system!
For the last 4 years the ETF had been using an on site compost where compost was taken by the ETF's members to an area at the back of the school. Unfortunately, it meant that not all products, like meat and dairy, could be composted and compostable flatware and silverware still had to be thrown away. Because of ETF's hard work running the backyard composting program, they were thrilled to become a Green Star school and gain the ability to expand the compost program with an industrial level system.  The industrial composting from Eco-Cycle now allows many different kinds of items to be composted at New Vista further reducing the waste we produce.
The Earth Task Force and Ecocycle hosted a Green Star School launch on April 3rd, which included a student written skit performed by students and staff to educate the NVHS community about the importance of conserving our precious natural resources. Eco-cycle introduced the new recycling and composting systems. At the end of the presentation representatives from each classroom came to pick up trash, recycle, and compost bins for each room in the school. The launch was fun for the entire school and a great way to start off the Green Star School program. Students are happy about the new waste disposal system and the amount of foodstuffs being composted rather than thrown away. The office staff has decided to host zero waste events with financial support from the Earth Task Force.
Written by student journalist Allison Bell.
The Earth Task Force is a Cottonwood Institute-supported program at New Vista High School in Boulder, CO designed to give students an opportunity to take the lead to implement sustainability initiatives at their school.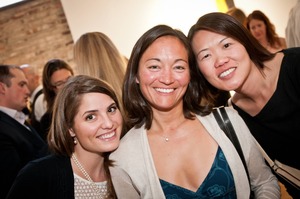 It is incredible what is possible when the community pulls together to support a good cause.
Approximately 250 people and local businesses rallied together to donate money, silent auction items, food, and spirits to help make the 2013 Base Camp Bash our most successful event ever!
So how much money did we raise? We raised over $51,500 to help support our programs this year. The money we raised from the Bash will help support our programs with:
To check out pictures from the event and re-live the magic, Click Here!
If you missed the best Base Camp Bash ever, you will have to wait until next year. But you can still help support our programs by making a tax-deductible donation to support our programs to connect underserved students to the outdoors and empower them to tackle local environmental issues by Clicking Here.
Finally, we can't speak more highly of all of the amazing local businesses that contributed to the success of Base Camp Bash. Please support the folks who support local nonprofits in the community! For a full list of our sponsors and supporters, Click Here.
It's go time everyone! We've been training for this day all year and now it is less that two weeks away. Drum roll please…
The 2013 Base Camp Bash is almost upon us on Saturday, April 20th, 2013 from 7-10pm at Artwork Network in Denver, CO.
What is the Base Camp Bash you ask? Only the most fun and exciting event the Cottonwood Institute hosts once a year to raise money to support our programs to connect students to the outdoors and empower them to tackle local environmental issues.
Why is this one of the coolest nonprofit events ever to happen you wonder? Here are a two reasons you should drop everything and buy your tickets at the door!
The Best Food And Beverages Denver Has To Offer: We will be featuring "S'mores Pancakes" from Snooze, Cottonwood Organic White beer from Wynkoop Brewing Company, and great wine. For just a few more bucks you can come to the VIP party from 5:30pm – 7pm before the main event and enjoy a local cocktail tasting with mixologists from Ace Eat Serve and Steuben's featuring spirits from Leopold Bros. and appetizers from The Kitchen restaurant.
A Fabulous Silent Auction: We have adventurous auction items, including: A luxurious 4-night stay to one of 20 exotic locations courtesy of Portico, outdoor gear from Mountainsmith, restaurant gift certificates to the best restaurants in Denver like Root Down, and much more! To check out what we have so far and to start bidding, Click Here.
What are you waiting for? Buy your tickets at the door!
What's that? You have another commitment that night you just can't wiggle out of? Well it better be a good excuse…But seriously, you will be missed, AND there are still two ways you can help:
You can Pre-Bid on our amazing silent auction items until Friday, April 19th, 2013 at 5:00pm. Pre-bids will open up the bidding at the main event on April 20th, so if you can't come and you really want something, bid high! Remember, we all need to buy gifts for friends and family, so why not shop at our auction and support a great cause?
You can make a Tax-Deductible Donation to help support our programs for underserved students. School budgets are still being cut and the Cottonwood Institute is providing life-changing programs for underserved students in the Denver/Boulder area. All donations from the Base Camp Bash help support our high priority programs with Casa de la Esperanza, New Vista High School, Operation: Military Kids, Strive Preparatory Schools, and more.
SPONSORS:
We could not pull all this off without the incredible support of our sponsors and VIPs this year. They support great organizations like the Cottonwood Institute, so please support them!
$5,000+ Level Sponsors
$2,500 Level Sponsors:
Dr. and Mrs. John M. Church, Jr.
$1,000 Level Sponsors:
Anonymous, Dr. and Mrs. Stefan Mokrohisky, Dr. and Mrs. William Conway, Linda Bjork, Mr. and Mrs. Chris Zook
$500 Level Sponsors:
Mr. and Mrs. Stephen Waters
Although we haven't been planting, or digging, or weeding during the winter season, we have been doing a lot of work to get ready for the 2013 growing season!
Here are a few quick updates from the New Vista High School Learning Garden Crew:
We raised $5,000 to support the Learning Garden. This money is allocated to our Garden Coordinator position and will support it for two years!
We hired an experienced educator and marvelous Garden Coordinator, Melanie Goldbort. Melanie is skilled in gardening and passionate about connecting people with their food. One of her goals in life is to create a new generation of farmers. She also co-founded Boulder Family Farms. To read her full bio Click Here.
Melanie is meeting with teachers to write standards-based garden lessons for high-schoolers! Thank you teachers for taking the time!
A garden club for students at NVHS will begin this April. The 1st meeting will be Thursday, April 25th, 2013. Stay tuned for more information. Or Email Melanie if you are already interested.
We have received word from Boulder Valley School District that they will support our garden with funding this year. We're going to buy seeds, tools, irrigation materials and more.
We will be partnering with Boulder Food Rescue to donate a large part of our harvest to communities in need and our Learning Garden will officially be named a "Garden Against Hunger."
We need volunteers of all ages to love, care for, and eat from our garden this summer. If you or someone you know is interested in helping out, please Email Melanie Goldbort.
The New Vista High School Learning Garden is a Cottonwood Institute-supported program at New Vista High School in Boulder, CO designed to give students an opportunity to take the lead to implement sustainability initiatives at their school. Learning Gardens are a product of The Kitchen Community in Boulder, CO.
We are wrapping up another incredible programming year with the Cottonwood Institute and have been blown away by the students we have served and the Action Projects they have taken on to improve their schools, the community, and the environment.
In 2012, we served over 375 youth, logged over 15,000 program contact hours, and recorded over 6,500 service-learning project hours "changing the world, one adventure at a time!"
So what were our students actually up to you ask? Here is a list of our Top 10 Inspiring Stories from 2012:
10. Together We Can Change The World: Earth Task Force and Cottonwood Institute Present at National Green School Conference
9. Takeaways From The 2nd Annual Johnson & Wales Environmental Leadership Summit
8. Lakewood High School Students Change Their World
7. Life Lessons: Making Connections On CAP Overnights
6. Wandering In Nature With Buckley Air Force Base Youth
5. The Three C's: Casa, Calwood, and Camping!
4. Veggies Bring Out The Best In Us: CYC Youth Take On Farming!
3. Earth Task Force Digs Into The New Vista Garden Project
2. Music Survival Project: Inspiration From The Woods
1. Exploration and Transformation for STRIVE Prep Students
We can't inspire our students without the generous support of our educational partners, students, parents, staff, instructors, board members, donors, corporate sponsors, and foundations.
Please consider making a tax-deductible donation before December 31, 2012 to help make sure we have the resources to continue to deliver amazing programs in 2013 by Clicking Here.
Happy Holidays from the Cottonwood Institute!
The North Face awarded an Explore Fund grant to the Cottonwood Institute to help fund our programs with Casa de la Esperanza in Boulder County!
The Explore Fund's mission is to inspire and enable the next generation of explorers by funding non-profit organizations that are working to re-connect children with nature. By encouraging an active healthy lifestyle and protection of our natural landscapes, a stronger connection of youth to the outdoors can be nurtured.
Cottonwood Institute was selected from more than 900 applications submitted for the first of two grant cycles in 2012, because of our mission to connect underserved students to the outdoors and to empower them to tackle local environmental issues.  Since The North Face Explore Fund was initiated in 2010, The North Face has provided more than $1 Million in grants to non-profits all over the world working to connect youth to the outdoors, with more than three quarters of that going to programs in the United States.
Funding from this grant will enable Cottonwood Institute to continue to develop our partnership with Casa de la Esperanza, a residential community dedicated to helping agricultural workers in Boulder County. The community is owned and operated by the Boulder County Housing Authority in the City of
Longmont. This center provides educational and recreational services to Casa residents, including an onsite after-school program and academic center. According to Carlota Loya Hernandez, Program Coordinator for the Casa Learning Center, "For the last year, the Cottonwood Institute has partnered with our community to provide incredible enrichment opportunities for our youth. Crucial to the Casa Learning Center's mission, the Cottonwood Institute compliments our program by focusing on enhancing the children's educational opportunities. The Cottonwood Institute has benefited and enriched the lives of over 20 children of the Casa community this past year. This included hikes, environmental and sustainability classes on site, and overnight camping at Calwood Outdoor Education Center. These opportunities would not be available to our community without the support of the Cottonwood Institute and their high quality staff."

"There can be so many barriers to getting kids outdoors, whether it be a disability, health resources or simply a lack of access. A large percentage of the grants went toward funding organizations that are addressing these issues by providing access and education," said Ann Krcik, director of Outdoor Exploration at The North Face. "We believe that if you can get kids to love the outdoors, not only will they develop skills that will help them throughout life, but they will grow up to care about their natural world, protecting and conserving the wild places they explore"
Stay tuned for more information about our program with Casa de la Esperanza!
About The North Face®
The North Face, a division of VF Outdoor, Inc., was founded in 1968. Headquartered in San Leandro, California, the company offers the most technically advanced products in the market to accomplished climbers, mountaineers, snowsport athletes, endurance athletes, and explorers. The company's products are sold in specialty mountaineering, backpacking, running, and snowsport retailers, premium-sporting goods retailers and major outdoor specialty retail chains.
COLORADO GIVES DAY: Tuesday, December 4, 2012
Cottonwood Institute is rallying downtown businesses and supporters for happy hour to "give where they live…and work" for Colorado Gives Day, Tuesday, December 4th from 4:30pm – 6:00pm at Wynkoop Brewing Company, Upstairs Bar.
We are encouraging folks to take off work a little early on Colorado Gives Day to make a donation to support the Cottonwood Institute, while networking with other downtown businesses and enjoying a much deserved happy hour drink.
Donations will help support our programs to connect underserved kids to the outdoors and empower them to tackle local issues in the community.
Companies that donate $500 or more will be listed as a sponsor for our Colorado Gives Day happy hour and we will help leverage media exposure generated that day.
Schedule your donation to support the Cottonwood Institute for Colorado Gives Day today by Clicking Here and join us for a fun happy hour at Wynkoop on Colorado Gives Day!
To RSVP for the happy hour, Email Us.
Colorado Gives Day is amazing because it is a great initiative to increase philanthropy in Colorado through online giving. For 24 hours, people will have an opportunity to give where they live. 100% of your donation to the Cottonwood Institute on Colorado Gives Day will support our organization because Community First Foundation and FirstBank have absorbed the credit card fees. As an added bonus, the FirstBank Incentive Fund was established to help increase the value of every dollar donated on Colorado Gives Day! For more information about Colorado Gives Day, Click Here.

SPONSORS:
As we transition into fall and relish the cooler temperatures and vibrant fall color change in Colorado, our Operation: Military Kids Adventure Overnight youth and Adult Survival Overnight participants united for one amazing weekend survival program.
Cottonwood Institute loves offering our Operation: Military Kids programs because it is our chance to give back to military youth and families who sacrifice so much for our country. One student was so excited because had seen just about every episode of Survivorman and was eager to practice the skills he had seen on TV.
Adult participants had spent a fair amount of time outdoors and wanted to test themselves to see if they had what it took to survive in the mountains if they ever got caught out. Students and adults built survival shelters together and then the adults put their shelters to the test by sleeping in them overnight.
We packed a lot of skills and activities into a short weekend, including: survival shelters, survival kits, edible and medicinal plants, nature awareness and tracking games, friction fire, throwing sticks, a stargazing night hike, and we helped knock out an Action Project to help our partners at Cal-Wood Education Center with a fire mitigation project so they can sell firewood that will help support their educational programs.
One Operation: Military Kids parent stated: "Thank you to the incredible directors and organizers over at the Cottonwood Institute for providing such a great camping experience for my family! They really went above and beyond the call of duty on so many levels. They were able to make last minute arrangements to accommodate my two children on the Operation: Military Kids Adventure and they provided much of the gear they needed. A great big hug of gratitude to you both and to the sponsors who made it all possible!"
We look forward to planning more Operation: Military Kids programs in 2013! If you are interested in supporting this program, please consider making a tax-deductible donation to Matt Holzmann's Fundraising Page. Matt is a Cottonwood Institute supporter, Marine, and veteran who is trying to raise enough money to support an Operation: Military Kids program in 2013 and he has raised 21% towards his goal!
In the meantime, check out a slide show of the action by Clicking Here.
Colorado Operation: Military Kids (OMK) is a collaborative outreach initiative between the US Military and Colorado State University Youth Development 4-H to provide support and assistance to military youth and families – on installations and those geographically dispersed National Guard and Reserve families in our communities.
It's a dirty job, but someone has to do it. That someone is Katie Craig and she has hit the ground running! The Cottonwood Institute has been going through a fall transition of our own as we welcome Katie Craig as our new Adventure Coordinator and Community Adventure Program (CAP) Instructor at New Vista High School.
Katie brings a passion for adventure, community, and the environment to the Cottonwood Institute. While earning a B.A. in Government and Environmental Studies at St. Lawrence University, she explored a variety of experiential education models as a student, teacher, and guide. She weaves an artistic imagination and a love of the wild into all of her teaching. Katie has worked nationally and internationally for many outdoor and environmental education organizations, including the National Outdoor Leadership School (NOLS), the Women's Wilderness Institute, and the Appalachian Mountain Club. She spends her free time playing with the beautiful Juniper-dog, rock climbing, dropping knees, fermenting food, and practicing shavasana.
After heading to the hills to escape the July heat to participate in an intense survival training with the Cottonwood Institute, Snooze Staff are officially ready for the Hunger Games.
They broke into two teams for an extreme competition where they battled it out. The winner would receive serious bragging rights and the loser had to buy the first round at Oskar Blues after the course.
They participated in a few games to get things rolling, completed a survival scenario to learn about survival priorities, and then kick in their A-game to compete in a survival shelter competition. Who won? You be the judge.
Because we were in a fire ban this summer, we unfortunately did not have a chance to practice our mad survival fire making skills, but we did have a chance to organize a throwing stick competition before our lightning safety skills were put to a real test. An afternoon storm rolled in quickly,  the temperature dropped, and a severe downpour and lightening ensued, so we decided to head to the safety of our vehicles and get out of Dodge.
After making it out of the field safely, but very, very wet, we relived the crazy day over a refreshing brew at Oskar Blues. Overall, it was a good day and everyone left with the confidence that they have what it takes to survive if they ever get caught out in the mountains.
To check out a slide show of the action, Click Here.
In memory of Zach Johns.