We hope you are planning to join us for the 7th Annual Base Camp Bash on Saturday, April 28th, 2012 from 7 – 10pm at Artwork Network in Denver.
If you don't already have your tickets, here are 5 reasons to buy your tickets today!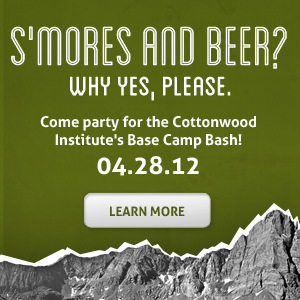 5. Ticket Prices Increase This Saturday! We can only sell 200 tickets and once they are gone they are gone! Sorry, no scalping tickets please;) Tickets are $50 per person in advance and increase to $60 per person on April 14th. Patron/sponsor levels still available, so Buy Now!
4. The Food: We will feature amazing food from Snooze, including breakfast burritos, breakfast sandwiches, grilled cheese and tomato soup dunkers, and s'mores pancakes for dessert – Yum!
3. The Drinks: Cottonwood Organic White beer from Wynkoop, wine donated by the Taddonio Family Foundation, and local spirits from Leopold Bros.
2. The Auction: Adventurous trips, outdoor gear, and more. Bid Now!
1. Proceeds Help Connect Kids To The Outdoors: Enough said, but to learn more about our award-winning environmental education and service-learning programs, Click Here.
MANY THANKS TO OUR SPONSORS:
$5,000+ Level Sponsors
$2,500 Level Sponsors:
$1,000 Level Sponsors:
$500 Level Sponsors:
On Friday, March 16, 2012, 13 motivated Johnson & Wales Environmental Leadership Academy students and staff packed Fluid Meeting Spaces in Denver to learn more about environmental issues and what they can do to address them. The Cottonwood Institute put together an exciting day of activities and guest speakers to highlight examples of people and organizations that are truly changing the world. Here are a few takeaways from the day:
In the morning, Ford Church spoke about how he started the Cottonwood Institute, we walked through an interactive process highlighting how their students tackle local environmental issues, and learned about the Cycle of Cynicism and the Cycle of Hope. After showing Derek Siver's video called How To Start A Movement, a big takeaway was that you don't always have to be a leader to change the world – the first follower is critical to starting any movement.
We showed a video called the Story of Stuff and learned more about our waste cycle, including extraction, production, distribution, consumption, and disposal and what we can do to help. We were shocked to learn that 99% of the things we buy from stores end up in a landfill within six months. Click Here for 10 little and big things you can do to address this problem.
Next, we heard from Jeff Aitken, Owner of Fluid Coffee Bar. He shared the core values of Fluid Coffee Bar and how they make decisions through a triple bottom line lens. If opportunities are not good for profit, planet, and people, they get creative about how they can partner with other folks to solve the problem or table the idea.
JD Prater from Alliance for Climate Education (ACE) gave an incredibly powerful, interactive presentation about climate change, including examples of ways that people all over the world are responding to this crisis. The big takeaway from JD's presentation was to Do One Thing (DOT).
Adam Schlegel, the Co-Founder of Snooze A.M. Eatery, hosted an amazing lunch for us and told us more about how he and his brother launched their wildly popular breakfast joint. A big takeaway from Adam's presentation was to start small and make environmental initiatives fun. Most restaurants do not recycle, so Snooze started small by starting a recycling program. Then they added composting and now divert close to 90% of their waste stream!
Finally, we wrapped up the day with John-Paul Maxfield, Founder of Waste Farmers. Waste Farmers is a next-generation, sustainable agricultural company focused on helping humanity meet current and future food demands while decreasing agriculture's environmental footprint. Waste Farmers is an excellent example of a for-profit, socially conscious venture that is a true leader in the sustainable agriculture movement.
A special thanks goes out to Johnson & Wales and all of our dynamic speakers who volunteered their time to inspire us to continue to come up with creative solutions to our most pressing environmental problems.
This quarter CAP students at New Vista High School in Boulder, CO explored the environmental impact of population growth. They researched how overpopulation is affecting Boulder County and came across the following topics: Open Space and Mountain Parks trail usage, food production, water use and treatment facilities, waste management, family planning and population density.
The class created funny characters to discuss these topics in skits, helping students understand the possible severity of this issue.  It was a difficult topic to fully grasp and contain in a six week project, but they worked hard and came away with an increased awareness and a desire to delve deeper.
CAP students not only gained an understanding of the overpopulation issue, they also learned more about nature awareness, social change, and interpersonal skills. But don't let us tell you about that, let the students speak for themselves…
On February 27th, 2012, attendees of the Green Schools National Conference came to visit New Vista High School (NVHS) and the Earth Task Force (ETF) got a chance to show off in a good way. About 50 people from all over the nation participated in the tour. The ETF visit was part of a larger tour of Boulder Valley School District's sustainability efforts, but the organizers of the tour specifically asked to visit the Earth Task Force!
The work ETF has done at NVHS is significant because the story of their building is the story of many schools across the country. The NVHS school building is old, inefficient, and an energy hog! There's little money, lots of issues, an old boiler, but lots of enthusiasm. The tour of NVHS, designed and run by students in the ETF, highlighted changes schools can make without large-scale capital improvement. The tour consisted of 5 stations that highlighted the ETF's fundraising and grassroots efforts: solar panels, low-flow toilets, the school
garden, vending machine misers, and the student-run compost.
At each station, ETF members talked about the projects and then took questions
from attendees. At the solar panel display, people on the tour furiously scribbled
down the names of various energy contests. At the garden station, tour members
read the colorful signs from about the space, by the compost they oohed and aahed! In between stations, ETF members leading the tours pointed out stickers
on light switches around the school that say "Turn Me Off. How would you feel if someone turned you on and left?" As one attendee put it, "that might not go over so well at an elementary school."
The Earth Task Force received lots of positive feedback about the tour attendees
at the larger conference in Denver called it "The highlight of the week."
Written by Seth Blum, student reporter, edited by Paige Doughty.
The Earth Task Force (ETF) is a Cottonwood Institute-supported program at New Vista High School in Boulder, CO designed to give students an opportunity to take the lead to implement sustainability initiatives at their school.